Oracle EBS – The 2018 Java SE warning for Corporate Users
Oracle EBS – The 2018 Java SE warning for Corporate Users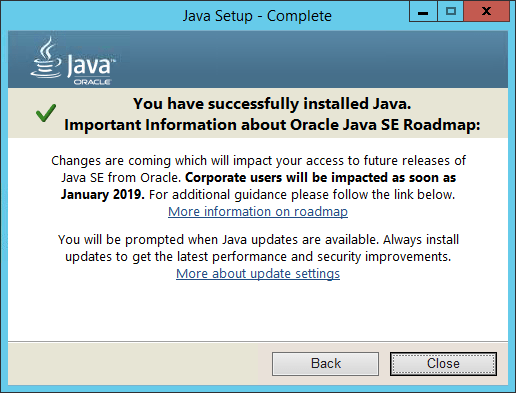 Recently, a customer's Oracle EBS help desk staff member contacted us regarding his concern over a Java warning his users were receiving upon updating their Java desktop client.
The Java message warning stated that come January 2019 "Corporate Users" access to future releases of Java SE will be impacted.
I investigated the issue further to determine if our customer would indeed be impacted. I was able to locate an Oracle Publication that addresses the issue, Doc ID 1557737.1.
It clarifies that if the Oracle customer is running E-Business Suite, the "Customer is entitled to download and use Java SE updates and patches to run E-Business Suite on the server. In addition, since E-Business Suite uses a browser based UI with Java components, the customer is entitled to download and install Java SE updates and patches on the desktop PCs that are used to access E-Business Suite. Incidental use of the same Java-enabled browser to access non-Oracle Java applications is permitted but not supported."
So, EBS users need not worry. Furthermore, Absolute Technologies product End Users and IT Support Staff need not worry, either. Oracle permits the incidental use of Java for our browser-based Java applet to login to our Oracle Forms-based UI. You are covered on both counts!
Happy and Secure Java Connections,
Cam Larner
President
Absolute Technologies, Inc.