Cloud Trials for SOD VM and CRA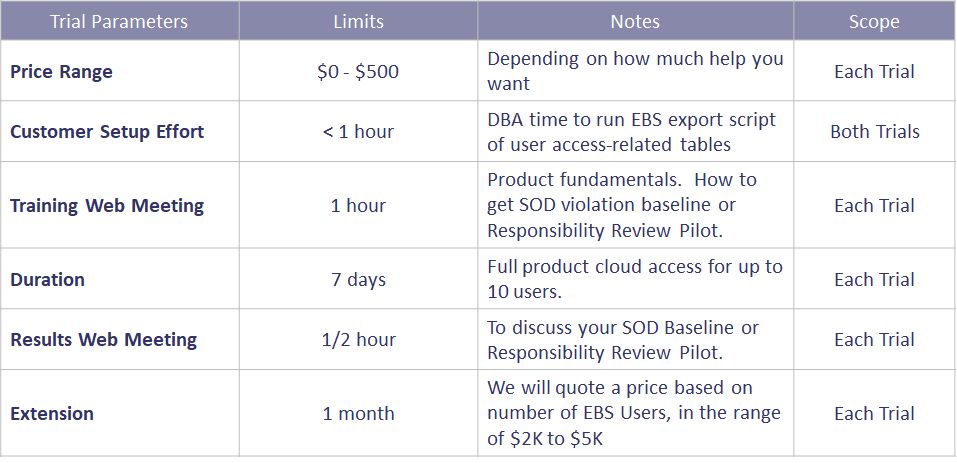 To help Oracle E-Business Suite customers evaluate their existing Segregation of Duties (SOD) controls and periodic EBS User Access Rights reviews, we offer cloud trials. You will be able to try two of our products, SOD Violation Manager, and Certify Responsibility Assignments in our cloud environment. Trials offer the same security as our production cloud customers have. Your DBA will spend less than an hour to review our instructions and run a script to export over forty EBS user access and responsibility-related tables, and then transport the export to your trial cloud site. Then your audit team will be able to accomplish either or both of the goals below.
Get a baseline of EBS User SOD violations against Absolute's seeded SOD policies.  You will see the baseline within a day of providing us the export of your EBS data.  You can also create or load your own policies, to get a benchmark of SOD VM's evaluations against your current SOD control product or tools.  
Responsibility Assignments Pilot Review
Run a pilot of a Certify Responsibility Assignments review of EBS User access to Responsibilities.  In a pilot, you set up 5 to 10 auditors to review and approve assignments to a test group of Responsibilities.   The pilot can be completed in a day. In production, whether in the cloud or on your on-premises EBS production instance, you would load all your auditors and in-scope Responsibilities.