BBB Intelligence for Oracle Order Management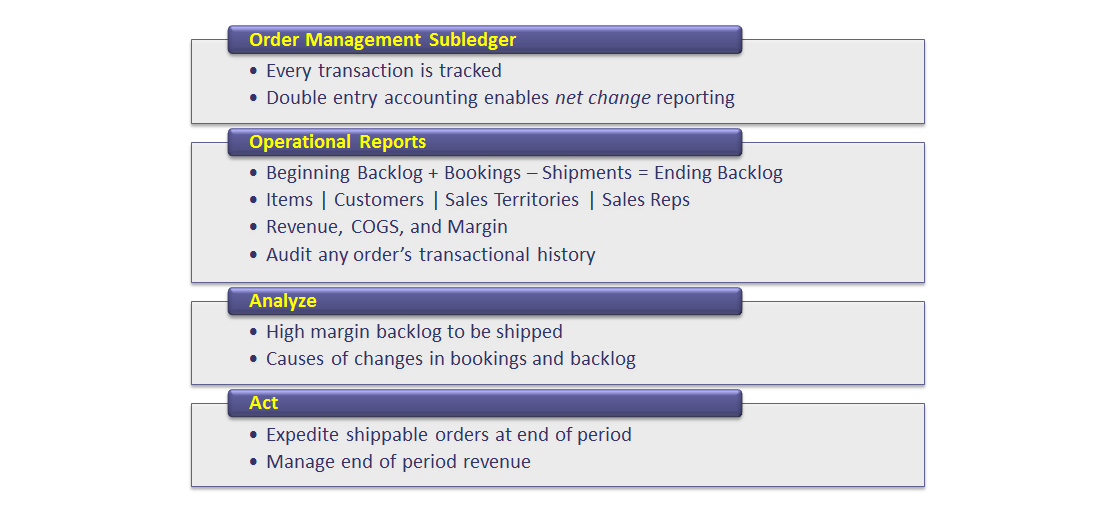 Solve the E-Business Suite Net Bookings Puzzle
So you can quickly and easily report the figures that evades all E-Business Suite (EBS) Oracle Order Management users,
Net Bookings
by period and
Backlog Aging
! For Sales Operations, BBBi is different from data warehouse solutions. Upon installation, it immediately begins generating a sales order audit trail. When combined with
ProView
, it immediately provides end user reporting that is interactive, graphical, easy to use, and customizable.  For all your Bookings, Backlog and Billings requirements in EBS.
Read this blog post for details...
Sales Operations BBB Requirement
Some enterprises, like discrete manufacturers, require booking, backlog, and billing (BBB) reporting beyond what Oracle E-Business Suite provides. Does yours? These enterprises must have accurate, timely, and consistent BBB reporting to make quarterly operational decisions, so they can improve sales, margins, fulfillment, customer service, and revenue reporting activities.  They need the right summary data plus rapid access to supporting details.
Order Management Subledger
BBBi fills this gap. It provides reporting that captures the history of sales order changes that impact revenue.  BBBi gives you real time net bookings and backlog figures to drive business decisions.  Daily, weekly, monthly, and quarterly. BBBi transforms the complex relational data in Oracle EBS into meaningful business information. Use
any
reporting and analysis tool to access BBBi
's ready-to-use, Sales Order database views.
See
ProView for BBB Intelligence
for out-of-the-box interactive reporting and additional productivity capabilities. With BBBi, your Order Management module will become a reportable sub ledger.
Forecast revenue and sales quotas for future periods, from current period bookings and backlog.
Forecast costs and margins from current backlog.
Analyze revenue impact from changes to requested, promised, or scheduled ship dates.
Age backlog by schedule date, on time delivery metrics, and projected revenue.
Use sales order descriptive flexfield values to analyze bookings.
Derive net bookings and change order impact to the value, cost, and margin of bookings and backlog.
Project when unearned or deferred revenue will be realized.
Research the complete history of sales credit splits and adjustments.
Identify data entry errors from a sales order's complete history of changes.
In depth views for the lifecycle of an order, from order entry to revenue recognition.
Track changes against any sales order attribute.
Compliant with EBS Multi-Org and Multi-Currency.
Global currency to compare data across operating units, in addition to base and transaction level currency reporting.
Item category flexfield support enables analysis by product hierarchy and other categories.
Installation is fast and simple.
No additional hardware or Oracle software to purchase.
Order Management is transformed into a subledger for the order backlog.
Sales operations analysts produce and distribute better reports, faster, without the need for spreadsheets.
Accurate BBB data drives better operational decisions.
Trent Pinter
Demand Planning Manager
Charter Steel, a division of Charter Manufacturing Company
Bradley Dingfelder
Finance Manager
Beckman Coulter
Kenny Gilbert
Former Director of Information Services
Silicon Image
More Customer Testimonials